Nice litte interview with Variety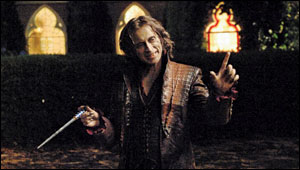 Prolific dealmaker Rumplestiltskin is one of primetime's most enigmatic and colorful characters, so it's little wonder the opportunity to play the part convinced Scottish actor Robert Carlyle to sign what could be a long-term deal for ABC's "Once Upon a Time."
"It's quite a scary thought to be locked into anything for that amount of time," Carlyle says of the deal that is likely in the five-year range. "I didn't think it's going to go for one year, two years or five years. I didn't really consider that. I was just taken by the piece."
Series creators Edward Kitsis and Adam Horowitz gave Carlyle free rein to develop his dual character. He chose to play Mr. Gold with restraint but, fittingly, Rumplestiltskin proved trickier.
"It's Rumplestiltskin. Everybody knows his name. He's horrible," says Carlyle, whose bigscreen pics include "The Full Monty," "Trainspotting" and "28 Weeks Later." "But what do you know about Rumplestiltskin, really? You know he's got a funny name and spins straw into gold."
The character was inspired by British comedians of the 1950s and '60s and Carlyle's 6-year-old son's sing-song vocalizations; costumes and makeup completed the transformation.
"Putting that heavy make-up on, you sort of lose yourself a little bit. Without sounding too wanky about it, you sort of see another face and personality coming through," he says.
Carlyle says Rumplestiltskin's backstory with his son and Belle give the role emotional depth.
"In the episode 'Skin Deep' you see Rumplestiltskin in all his glory -- good, bad or otherwise." After that aired, fans went wild. "They loved him for some reason. They felt for him and wanted him to find Belle and be happy. And he's the monster."
Categories: Robert Carlyle