Interview by Gareth Hughes
Espenson may be an anagram for Openness but in my world, Jane Espenson stands for the ultimate in Cool! Having been a huge fan of her writing since the 90's when I would obsess about every episode of Buffy, the chance to pose questions directly to her sent me on a "Fan Boy" high.
Not only is Jane one of the major players in conceptualising Once Upon A Time, she has also earned herself a unique place in the sci-fi/fantasy pantheon of great writers with production and writing credits on the aforementioned Buffy, Battlestar Galatica, Caprica, Firefly, Warehouse 13, Torchwood, Tru Calling, Game of Thrones, to name but a few. Jane is quite simply a sci-fi geek's ultimate babe!
We chatted about her plans for the second series of Husbands, which premieres August 15th, as well as all things Once Upon A Time. Jane was also kind enough to share some practical advice for all you aspiring writers out there. 
Photo Credit: Adam Bouska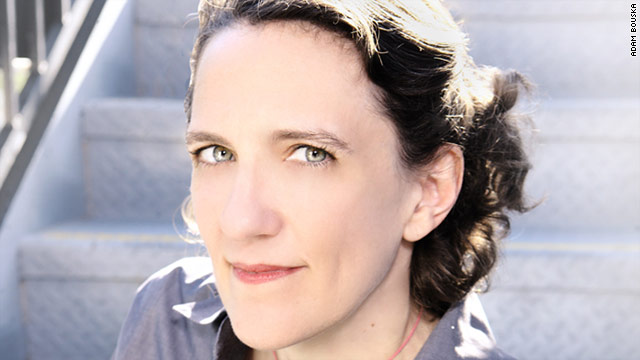 Gareth - I wanted to start off by asking about your overall career. You have really broken ground for female writers, especially in the sci-fi/fantasy genre. Your resume reads like an A-Z of some of the best shows of the last 20 years. What's the appeal for you in this genre?  
Jane - I've always loved science fiction – it was what I read as a kid and all the way through college as my go-to genre, alongside Jane Austen.  I love world-building, both as a reader and as a writer.  I like the idea of throwing out preconceptions, and imagining a version of myself as I might exist in a radically different situation or culture.  As a writer, it's even more fun, because you get to use that world-building to say something about OUR world – it's so much easier to be honest when you have that distance that the sci fi lens gives you.    
Gareth - Do you have a particular episode or scene from any series you have written for that really stands out for you and that you are proud of?
Jane - I've been really lucky to write for a lot of different amazing shows, and each episode is really collaborative, so if any are really good, that's not just attributable to me.  That said, I have some real favorites.  On Buffy, I love "Storyteller," "Superstar," Harsh Light of Day" and others.  I love "Shindig", which is a Firefly episode, and "The Hub" from Battlestar and "Skin Deep," from Once Upon a Time.  And all of season two of Husbands, which I wrote with Brad Bell – it's made up of three mini-episodes, and I'm very very proud of all of those.     
Gareth - What challenges have you come across in what has been a male dominated profession in the past? And how did you overcome these challenges?  
Jane - It was really only a challenge in my first five years of writing, when I was working on comedies.  At the time (I hope it has changed), the dynamic in a sitcom writers' room was very rough-and-tumble, and there was a certain culture of going after the weakest wildebeest, and I was certainly the newest of the gnu.  I overcame it by walking away, actually, and realizing that drama was a better fit for me.  
Once I had put in some successful years, I was able to return to comedy occasionally, with a little accumulated room-cred.  I'm not advocating running away from a challenge, but I think it's important to find the right path that leads to your dream.  There are lots and lots of different ways to thrive as a working tv writer– there are as many different room dynamics as there are rooms.  Many writers are actually fired from their first couple jobs.  The successes are the ones who find another way.    
Gareth - Many of our fan site members are aspiring writers. What advice would you give them as they set out on their writing journey?  
Jane - I guess I already started, didn't I?  Don't give up.  Also, listen.  Listen to every bit of advice you can get, particularly about your writing. Don't slavishly take every note, but listen to all of them.  Even if you disagree, listen and think, because the next person with the same dumb note might be the one with the power to hire you.  Then listen in the room.  I think one of the reasons that former writers' assistants make good writers is that they've had time in the room in which they were empowered to do nothing but listen.     
Gareth - Moving to Once Upon A Time, can you guide us through how the writing process is broken down for the show? Are choices made early on in the season with regards who will take on stories for different characters etc?  
Jane - The writing process is very typical for a one-hour show.  The staff, led by Eddy and Adam (Eddy Kitsis and Adam Horowitz), starts each season crafting an overall shape, with arcs for the major characters.   Lots of specific stories suggest themselves at this point, and a rough order of early episodes is determined.  The staff then works together to "break" each story, one at a time, in quite a lot of detail – this takes a week or two.  
As the episode starts taking shape, the author of the episode is told that they are going to be writing this one.  They start putting their own mark on it as they write a brief summary of the episode, and then, later, a full outline.  Before any script pages are generated, the staff, studio and network know every scene that is going to be in the episode, in order. This makes the final script writing fast and fun, because you get to expend all your energy on making the scene great, rather than on second guessing what happens in the scene.  This is the best part, when you get to play with dialogue, attitudes, the way information rolls out, and all the little "business" of a scene. 
We write our episodes quickly compared with other shows I've been on, and there is not usually a lot of rewriting or rebreaking, because the process is so thorough to that point. It's a great, efficient, and creative process.
Jane with the master of all things Buffy, Joss Whedon - Starshine Photography
Gareth - "Skin Deep" is regarded as the masterpiece of season one by the majority of fans. Certainly, I felt it was the moment the bar was raised and we got a glimpse into a much darker story. Were you surprised by the reaction the episode received and the "RumBelle" phenomenon that came from it?  
Jane - I kind of knew.  I'm a fan myself, and I knew I was writing EXACTLY what I wanted to see. It just clicked.  It's the same with Husbands – as soon as we came up with the newlywed concept for that show, I knew we had hit on something potent.  You can feel it when a romance is going to resonate.  Of course, in both instances, it would never have sailed without amazing actors that make you feel that connection.    
Gareth - Many of your OUAT episodes have revolved around Rumplestiltskin. He is such a complex character and Robert is just amazing in the role. Do you plan on bringing out different facets of his character more in season two? Will we see a more emotional Rumple/Mr Gold now that Belle is back?  
Jane - Season two is going to allow us to dig more into ALL the characters.  Rumplestiltskin is full of layers and I think you're going to really enjoy the journey.    
Gareth - Many fans felt that Rumple had not learned the lessons from his past when he unleashed magic on Storybrooke at the end of season one. It seemed like he was again putting power before love. If all magic has a price, will Rumple pay it in season two?  
Jane - Some characters have a tragic flaw that no amount of learning seems to fix.  Time will tell if Rumple will change.  And maybe we shouldn't assume that power and love have to always be at odds.    
Gareth - Do you think that Rumple is redeemable? Many fans see him as the classic anti-hero. Is that how you perceive him? Why is he your favorite character on the show?  
Jane - I think all characters are redeemable – if we didn't believe that, then their failure to change wouldn't be so tragic, when it happens.  Yes, I'd say Rumple is redeemable... but does that mean he will be redeemed?  That's up to him.  And he is my favorite character because he is both the funniest and the saddest.      
Gareth - Can you give us a tiny hint of how magic will affect Storybrooke? Will magic spill out across the world or is it a localised problem? Is it possible that characters like Emma and Henry will learn to use magic?  
Jane - I didn't see any purple smoke leaving town, but we'll have to watch and make sure.  Even in Fairy Tale Land, not every character was able to generate magic, so I wouldn't expect to see sparks shooting out of the top of Henry's head.  At least not yet.    
Gareth - What can you tell us about the new characters being introduced (Mulan, Phillip, Lancelot, Hook, Aurora etc). Fans have reacted differently to the idea of Arthurian legends being incorporated into the show and are naturally curious as to how all these characters will interact with each other.  
Jane - We saw Pinocchio last year, and Wonderland, and hints at some other worlds that are not strictly fairy tales.  There are clearly other lands out there that contain other fictional and fictional-adjacent (like Mulan) characters.   One of the things I love about our show is that these characters have had a long history of jumping between lands when they can, so that they may not all be strangers to each other.   
ESPENSON: 'An anagram for Openness' Panel at Comic-Con 2012 - Photo Credit: M4PR
Gareth - Season 1 was very much about Emma's journey from denial to belief, as well as discovering her maternal love for Henry. What are the themes and issues around season two and will Emma continue on the classic hero journey?  
Jane - Season two has its own journey, one that will be revealed as the story unfolds.  The relationship between Emma and Henry will continue to be crucial, as will Emma's continuing journey as the savior of her people.    
Gareth - Do you think we will see flashbacks of Emma growing up at some point?  Fans would love to see the events that led up to her imprisonment etc.  
Jane - That would be a bit of a break from our established format. There are no laws against breaking a format.    
Gareth - Do you ever read the theories that fans come up with and do popular fan theories ever influence events that take place within the series? We had one member who posted that August was Pinocchio months before the episode aired. Do these theories reach the crews ears?  
Jane - I don't read the fan theories, but this was a thing that happened starting around the time I worked at Buffy:  we'd hear that some fan on the posting board had figured out exactly where we were headed.  If there was time, we might change something – obviously, we don't want to tell a predictable story – but usually you just have to go ahead with the plan and hope that not too many people were spoiled, or that something in the execution will still be surprising.  
We planted a lot of clues about Pinocchio, so it isn't a shock to hear that people picked up on it.  If you don't have any kind of hints, then a reveal can feel unsupported and random, so you don't want that either.  I feel like the August reveal worked as we'd hoped.    
Gareth - How did Husbands come about and what can you tell us about season two?  It does seem like equality issues are very much at the forefront of politics in the USA at the moment.  Is this something season two of Husbands will address?  
Jane - Husbands is the brain-baby of my co-creator Brad Bell, who brought the idea to me.  We worked on it together until it attained its current shape of a romantic comedy around a pair of newlyweds, making all the same mistakes that any newly-married couple might make.  
Season one was a big success, and season two will premiere August 15th(watch it at lovehusbands.com) and it's even bigger, even better!  We knew that we were writing the first marriage equality comedy right as the marriage equality issue was heating up, but we've turned out to be even more forefronty than we'd imagined.  Season two has a definite political edge.  We can't wait to see the reaction!    
Gareth - You are known for your writing sprints on Twitter (I have joined in many times). Do you find you write best in focused bursts like that? And do you have a preference when writing for OUAT - Storybrooke or FT storylines?  
Jane - Yes.  Writing is so much fun, but it's like jumping in the water, sometimes you need that push to get started.  And it's amazing how much you can get done if you set a short time limit and a fast pace.  Writing for Once in season one – I like the fairy tale stories the best because of the magic.
Gareth - Do you have a scene or character that has given you trouble in your career? How did you creatively solve it?  Have you ever had to defend a character's action or plotline to a director or producer who didn't like it?  
Jane - Oh, sure.  Big long scenes with seven people in them, and a lot of information to share, and conflicting agendas... those are really hard.  I wrote an episode of Battlestar Galactica that had many scenes of a character in a hospital bed delivering information to a group of characters gathered around it.  There was a lot of talk, and very little motion, and it was the hardest writing I've ever done.  I solved it, I hope, by trying to make the dialogue as compelling as I could – to unfold the speeches the way a short story might unfold, so that the reveal of information happens with maximum impact, and to make the reactions of the characters very specific, so that there was texture to what could've been a lot of talking and a lot of gasping.  
Luckily, in TV, as the writer you generally arethe producer, and the director is there to help you realize the script, so there shouldn't be a lot of fighting among that group. Just lively creative discussions.    
Gareth - Finally, I can confirm that fans have overwhelmingly voted for you as Best Writer during our "Once Upon A Fan" Awards (Jane has had more votes than the other nominees combined in that category, currently taking 84.3% of the vote!), which we have been running over the past few weeks and come to a close on August 10th. What would you like to say to everyone who voted for you?  
Jane - Aww!  Really?  That's awesome!  I'd love to say THANK YOU!  Once Upon a Time is a team, and I'm just putting the words down where the team tells me.  Your support means a lot and I hope you'll keep watching! I've already written one episode for season two, and I'm about to start another – hope you like them!!!  xoxo
I would like to say a huge thank you to Jane for taking time out of her incredibly busy schedule to chat with us, especially since she has been very poorly lately and is recovering from pheumonia. What a trooper! Support Jane  and tune in online when season two of Husbands premieres on the 15th August. 
Categories: Interviews