Seriable recently reported on Emilie De Ravin's attendance at Comic-Con, where she had plenty to say about the direction Belle might take in season two. Emilie hinted that Belle's confusion at being locked up for so long would play a huge part in the early episodes of the second season as she struggles to find her place in Storybrooke. Emilie remarked, "She's ...
Read Full Post »
Another Emiie De Ravin Interview from TV Guide
If you thought Once Upon a Time's take on Beauty and the Beast would stay completely true to the whimsical, dark fairytale, Lost's Emilie de Ravin has a few words for you: "There's no singing and we don't have any dancing clocks or anything either."
In Sunday's episode (8/7c, ABC), the actress ...
Read Full Post »
Nice little interview with Emilie De Ravin from Quad City News. Clink the link to hear it.
Small interview with Emilie De Ravin from TV Fanatic 
Article by Matt Richenthal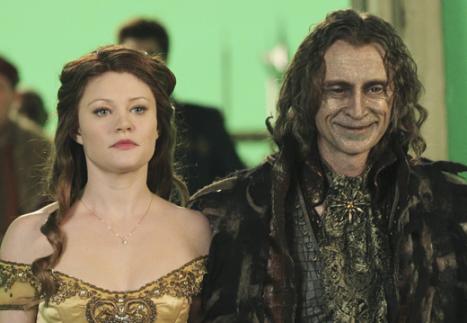 It's a tale as old as time, but it's one that will be given a special twist on Once Upon a Time this Sunday.
Read Full Post »
Small interview with Emilie De Ravin from 
Zap2It
Article by Andrea Reiher
Emilie de Ravin is coming to "Once Upon a Time" Sunday (Feb. 12) as Belle, the fairy tale princess who sacrifices her freedom to save her friends and family in the Ogre War. Just how does she do th...
Read Full Post »
Small interview from TV Guide with Emilie De Ravin. Not sure why she had to be so secretive about the Beast considering the ABC Promo was a huge spoiler. 
Growing up in Australia in the 1980s, young Emilie de Ravin's interests veered towards darker offerings than the wide-eyed wonders of Disney animation. "I was a child who watched Hitchcock and mur...
Read Full Post »