Meghan Ory recently chatted with The Huffington Post about Sunday's epic episode of Once Upon A Time. A sample of the interview can be found below.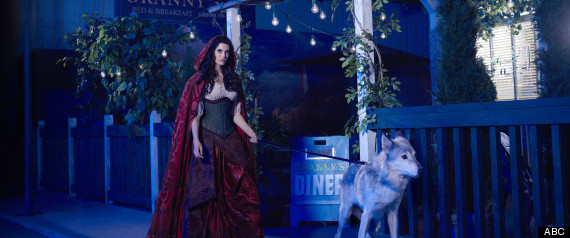 Let's talk about this week's episode. In Storybrooke, Ruby becomes the prime suspect in a murder ...
Read Full Post »
Spoilers Ahead
It is Meghan Ory's turn to face the spotlight this week as Once Upon A Time returns to Red's backstory in one of the most anticipated episodes yet, "Child of the Moon". The episode has been directed by Anthony Hemingway and judging by the way the cast were enthusing over him on Twitter, something very special is in the works for this episode.
In a recent interview for TV ...
Read Full Post »
We'll be seeing a lot more of Ruby in the magic-themed second season of Once Upon A Time. Meghan Ory, who recurred as Ruby aka Red Riding Hood on the freshman season of the breakout ABC drama, has been upped to series regular for the upcoming second season.
Promotion was put in motion at the beginning of 2012 when Ory started fielding strong interest for pilots. It was triggered recently, following Once's second season renewal by ABC. Canadian-born Ory...
Read Full Post »
Great interview with the Times Columnist
You have to believe Meghan Ory when she says she sometimes has to pinch herself on the job.
The Victoria native has literally been living a fairytale existence since being cast as Ruby/Red Hiding Hood on Once Upon a Time, ABC's hit drama about cursed fairy tale characters and their mo...
Read Full Post »
From TV Fanatic
On last week's Once Upon a Time, Red Riding Hood was caught "Red-Handed" in a twist this reviewer never saw coming. So I was thrilled to get to talk to Meghan Ory – who plays both Red and her Storybrooke counterpart Ruby – a few days later about the more frightening side of her characters.
...
Read Full Post »
Poptimal.com got the lowdown on Meghan Ory.  Nice little read.
I think it's fair to say that we've all at one point shared our lives with a fairy tale. Whether it's to dream of being a post-ball Cinderella swept off her feet by Prince Charming, or you've felt like a wooden Pinocchio yearning to be made a real boy, fairy tales have taken their place in the backbone of our psyches. Filled with magic, mystery and above all the requisite h...
Read Full Post »